The Chirana Aura V Ventilator
Because Every Breath Matters
You're here for your patients. We're here for you. The highly advanced Aura V ventilator offers ultimate flexibility and optimized patient care.
Indicated for a Wide Range of Patient Types
The Aura V ventilator is designed to support and protect the respiratory needs of adult, pediatric, and neonatal patients.
The system's sophisticated multi-modal technology is designed to optimize patient care, breath by breath.
Technology that Provides Breathing Room, Naturally
The Aura V system provides comprehensive mechanical ventilation options for clinicians. The wide range of standard and innovative features enables caregivers to address the needs of all patient types – all with one ventilator.
The system is designed to prioritize and augment the natural effort of each patient's breathing. With its advanced capabilities and modes of ventilation, especially PMLV®, it is ideally suited to monitor and support the most critical patients.
To learn about the features of the Aura V, please click on the buttons below:
About Us
A Partnership to Meet the Need
IPM Chirana was formed as a strategic international partnership to rapidly accelerate global production of one of the most technologically advanced critical care ventilation systems in the world, the Aura V Ventilator, to address the shortage of critical care ventilators due to COVID-19.
The partnership between IPM Group -- Europe's leading infraTech asset manager -- with Chirana Medical and others, aims to make the Aura V system available worldwide to assist physicians in lowering the mortality rates in hospital ICUs. IPM Chirana is scaling up and preparing the Aura V system so it can be marketed to the Americas, Western Europe, Middle East, Africa and India.
About Partners
IPM Group
IPM Group ("IPM") is a global asset and wealth management company. IPM was established in London in 2014 and has offices in Bratislava, Seoul, San Francisco and Hong Kong.    
The company's focus is to work and invest with the founders of pioneering technologies and infrastructure projects. IPM's mission is to combine infrastructure and early-stage investments to create "InfraTech assets".
The IPM's portfolio companies are positioned to provide solutions to some of the world's most pressing issues across sectors including energy, mobility and AI-enabled critical infrastructure. The company also builds a bridge between the US and Central Europe to further support Europe's bid for technological and supply chain sovereignty.
www.ipmllp.com

Chirana Medical
Chirana Medical is a Slovak company, founded in 1935. Its focus is to design and manufacture medical and dental devices. Chirana is a pioneer with a strong track record of R&D investment that results in innovative state-of-the-art products.
The company takes pride in manufacturing components in-house to its precise specifications to ensure the highest quality possible. Its products are manufactured in Slovakia, Russia and Uzbekistan.
In spring 2020, Chirana partnered with the IPM Group, global wealth and asset manager, to scale up the production in the United States of Chirana's proprietary Aura V ICU ventilator.
www.chirana.eu
Leadership Team
Case Study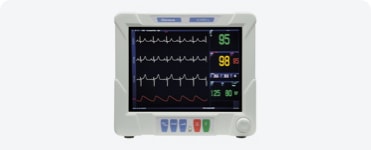 Use of Programmed Multilevel Ventilation as a Superior Method for Lung Recruitment in Heart Surgery
Show more
Contact us
To request more information
fill out the form below.